TRUSTEES

The following people have agreed to serve as trustees. Organisations represented on the Board of Trustees are included in square brackets (see key to abbreviations at foot of page). Year of election or re-election are indicated in branckets.

Peter WADHAM (2016) Chairman. [ECS]
Paul CHANT (2017) Secretary. [EHBT]
Ian VARNDELL (2016) Treasurer. [DGT]
Nigel FITZHUGH (2017) [SLNA]
Yvonne HENSMAN (2015)
Jane MARSTON (2015)
Cathy MORAN (2015) [SLNA]
Gordon READ (2016 - Volunteer Co-ordinator)
Claire RUDKINS (2016 - Media and Communications)

RESEARCH GROUP
The Research Group was co-ordinated by Beryl COE until her untimely death on 9th November 2015.
Anne AMOSFORD
Sally DYER
Bridget GARROOD
Yvonne HENSMAN - Group Co-ordinator
​Rachel KNOWLES
Sue MOSS
Sarah TAYLOR
Ian VARNDELL
Tessa VARNDELL

Key to Organisations:
DGT - Devon Gardens Trust; ECC - Exeter City Council; ECS - Exeter Civic Society; EHBT - Exeter Historic Buildings Trust; ELHS - Exeter Local History Society; SLNA - St. Leonards Neighbourhood Association.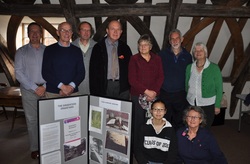 October 2014. Part of the EDGT team:
Ian Varndell | Nigel FitzHugh | Paul Chant | Peter Wadham | Jane Marston | Martin Dyer | Sally Dyer
Front row: Valerie Ma (Exeter University) | Yvonne Hensman
---