TRUSTEES AND STEERING GROUP

The following people have agreed to serve on the Steering Group. Trustees are marked with an asterisk (*) with their year of retirement. Organisations represented on the Steering Group are included in square brackets (see key to abbreviations at foot of page).

Peter WADHAM (* 2016) Chairman. [ECS]
Paul CHANT (* 2017) Secretary. [EHBT]
Ian VARNDELL (* 2016) Treasurer. [DGT]

Katie COLLINS
Peter DARE Consulting Stonemason
Martin DYER Consulting Archaeologist
Nigel FITZHUGH (* 2017) [SLNA]
Hazel HARVEY (* 2015) [ECS]
Yvonne HENSMAN (* 2018)
Richard HOLLADAY [ELHS]
Rachel KNOWLES
Lesley LAKE [EHBT]
Colin LASKEY [ELHS]
Jane MARSTON (* 2018)
Katharine METCALFE [ECC]
Cathy MORAN (* 2018) [SLNA]
Gordon READ (* 2016 - Volunteer Co-ordinator)
Norman SHIEL (* 2018) Ward Councillor St. Leonards
Margo SWIFT [ECS]
​
Martin DYER (Archaeologist)

Claire RUDKINS (* 2019 - Media and Communications)

RESEARCH GROUP
The Research Group was co-ordinated by Beryl COE until her untimely death on 9th November 2015.
Anne AMOSFORD
Sally DYER
Bridget GARROOD
Hazel HARVEY
Yvonne HENSMAN - Group Co-ordinator
Sue MOSS
Sarah TAYLOR
Ian VARNDELL
Tessa VARNDELL

Key to Organisations:
DGT - Devon Gardens Trust; ECC - Exeter City Council; ECS - Exeter Civic Society; EHBT - Exeter Historic Buildings Trust; ELHS - Exeter Local History Society; SLNA - St. Leonards Neighbourhood Association.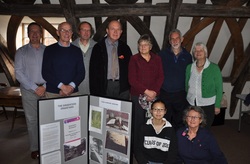 October 2014. Part of the EDGT team:
Ian Varndell | Nigel FitzHugh | Paul Chant | Peter Wadham | Jane Marston | Martin Dyer | Sally Dyer
Front row: Valerie Ma (Exeter University) | Yvonne Hensman
---