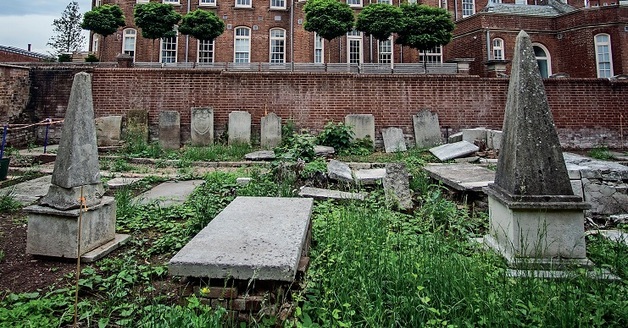 In the period from 1748 to 1854 more than 1520 Dissenters - Protestants who dissented from the strictures of the Anglican Church - were buried in this small plot on the outskirts of the walled city of Exeter (Devon, U.K.). The site was owned by various Church groups until the 1980s when it passed into private ownership. Sadly, over the intervening years, the site fell into neglect and disrepair as the photographs on this website attest.
The small, almost rectangular, graveyard is situated at the junction of Magdalen Street and Bull Meadow Road, Exeter (see map below and click
here
for aerial view of the site), within the Southernhay and Friars Conservation Area and within the statutory Exeter Area of Archaeological Importance. It is also included in the Devon Gazetteer of Parks and Gardens of local historic interest (click
here
to access the Devon Gazetteer) as well as on the Exeter City Council schedule of heritage assets of local importance.
---
This is a community project and we will welcome volunteers to help – people with no relevant skills will be as welcome as those with previous experience. More details about the work on the graveyard will appear on this site. Please bookmark this page.
The Trustees are very grateful for the grants and donations received to allow the work to be undertaken (click
here
for a list of donors).
The Trustees (see current members
here
) can be contacted at
enquiries@edgt.org.uk
.

---
IF YOU HAVE VOLUNTEERED OR ASSISTED THIS PROJECT IN ANY WAY, THE HERITAGE LOTTERY FUND WOULD LIKE TO HEAR FROM YOU. PLEASE TAKE A FEW MINUTES TO COMPLETE THIS SURVEY.